Suggestions or invitations for speaking opportunites are always welcome. Contact the authors
---
Click here to watch 'Cold War Cartography' , talk by Alex and John at Pushkin House, London on 18 January 2023 (approx 54 minutes)
---
COMING EVENTS
Nothing planned
---
PAST EVENTS
In person and online: Cold War Cartography -  Cartography On The Front Line.  A programme of events exploring the links between map making and war making organised by the Livingmaps network in partnership with Pushkin House
View video (approx 54 minutes)
---
17 February 2022,
British Cartographic Society Teatime Talk - A Magical Mystery Tour of British Cities - Soviet Style'.
View video (approx 60 mins)
---
Thursday 25 February 2021, 19:30.
On-Line Talk 'Secret Soviet Maps'.
IMCoS - International Map Collectors Society - Show and Tell evening
View video (approx 15 mins)
---
Thursday 26 November 2020, 14:00.
On-Line Talk 'Secret Soviet Maps of Devon, Britain and the World'.
In support of Torquay Museum special exhibition 'The Russians Are Coming'. An on-line talk by the authors of 'The Red Atlas' - John Davies and Alexander J Kent.
View video (approx 60 mins)
---
Tuesday 17 March 2020, 20:00, Ramsbottom, UK, West Pennines Military Vehicle Trust
Talk by John Davies 'Secret Soviet maps of Lancashire, Britain and the World'
Sorry! Event postponed because of pandemic
---
Tuesday 25 February 2020, 17:30, Cambridge, UK, Gardner Room,​ Emmanuel College, St Andrew's Street, CB2 3AP
Cambridge Seminars in the History of Cartography, John Davies and Alex Kent on the Red Atlas
Admission free, no need to book, More details here
---
Friday 6 December, 2019, 12:00 noon, Sheffield, UK, Central Library
John Davies, Secret Soviet Sheffield
Admission free, More details here
---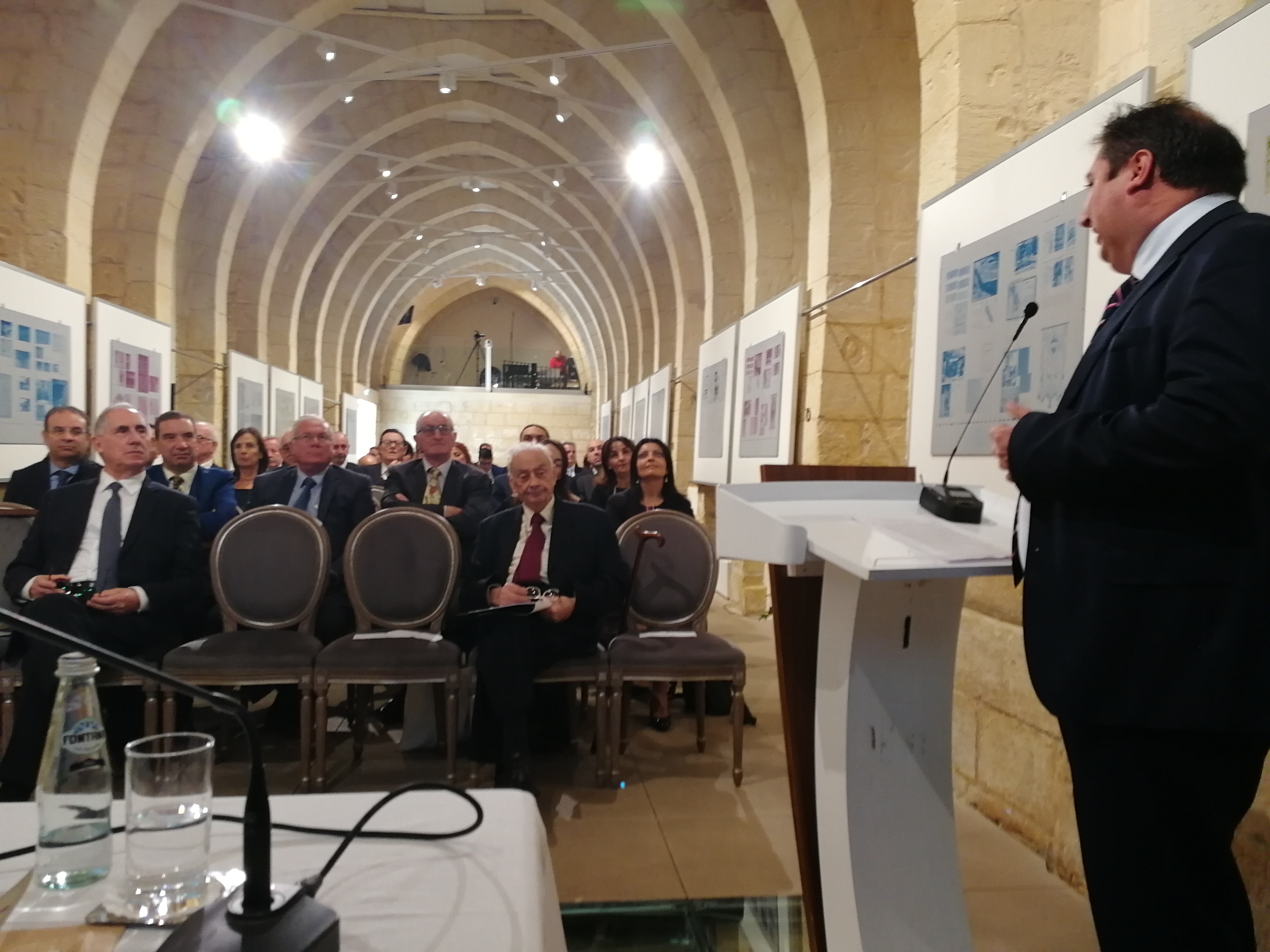 Left: Alex presenting in San Anton Palace, Valletta

Saturday 23 November 2019, 10:00, Valletta, Malta
Malta Map Society Seminar Imago Melitae. Alex Kent and John Davies on Soviet maps of Malta
---
Thursday 21 November 2019, 13:00, Oxford, UK, Bodleian Library
Talking Maps lunchtime talks, John Davies and Alex Kent on Soviet Oxford
Admission free, no need to book, More details here
---
Wednesday 11 September, 19:30, Wall, Staffs, UK
Charles Close Society Midland Group. John Davies on Secret Soviet mapping of the Midlands
Admission free, no need to book, More details here
---
Saturday 30 March, John Hansard Gallery, Southampton, 12:00 noon to 16:30.
Uncovering Soviet Maps, talk, workshop and walk looking at the Soviet mapping of Southampton with John Davies and Alex Kent, in conjunction with the exhibition Stefan Gec: The Shepherd's Whistle, 16 February 2019 - 27 April 2019 More details and booking here
---
Thursday 24 January 2019, RICS, 12 Great George Street, London, SW1P 3AD, Doors open 17:30 for 18:00 start, Free, details here
UKGeoforum annual lecture by John Davies and Alexander Kent: The Red Atlas How the Soviet Union Secretly Mapped the World., Central London,
---
Tuesday 15 January 2019, Manchester Geographical Society, Cross Street Manchester, 1:30 pm,Talk by John Davies: The Secret Soviet Maps of Manchester, the North and the World.
Free, details here
---
10 December 2018. 18:30, Highgate, London. Lecture organised by the Charles Close Society for the Study of Ordnance Survey Maps
'Secret Cold War maps of London', exploring comparisons between Ordnance Survey maps and Soviet Military maps. For information and booking contact author@redatlasbook.com
---
4 December 2018, 9:45 to 16:45, John Rylands Library, Manchester.
Mapping Manchester for Researchers, Free, but booking essential click here to book
---
'Mapping Empires – Colonial Cartographies of Land and Sea'. History of Cartography symposium, 13-15 September 2018, Bodleian's Weston Library Oxford (UK).
---
UK Mapping Festval, London, 5 September 2018,
---
11 July 2018, Pushkin House, London Podcast here
---
Wanstead Tap & Newham Bookshop event, Wanstead Tap, London E7, 15 February, 7.30pm (left: John on stage at Wanstead Tap)
---
'Living Maps' seminar, King's College London, 14 February, 6pm
---
Talk : Travel Writers Festival, 4 February 2018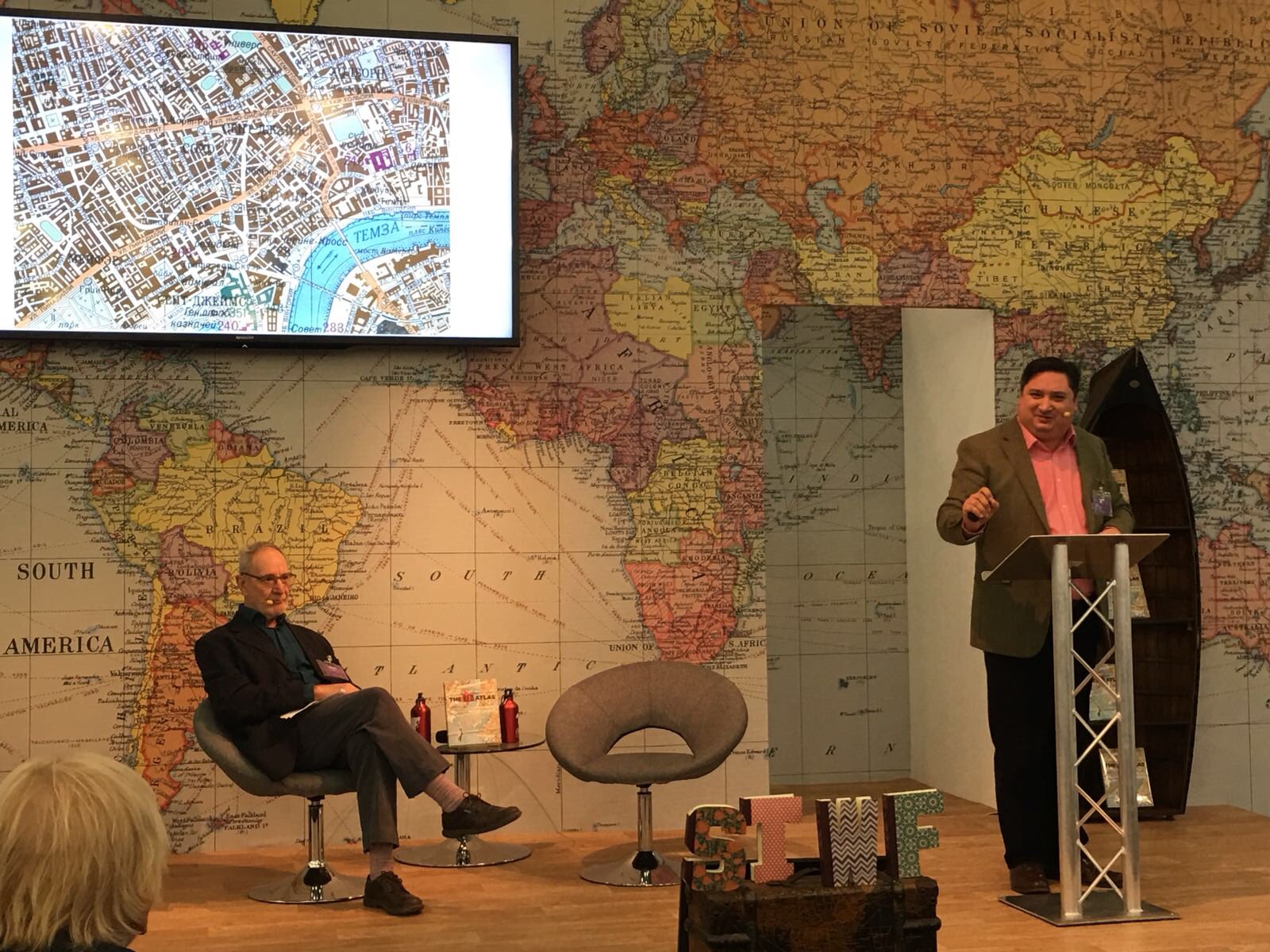 Destinations Show at London Olympia
Listen to podcast (select item 5)
(right: Alex and John on stage at Olympia)
---
Latvia Launch:
7 December 2017
6.30pm at Jana Seta map shop, Riga, Latvia
Watch short video
Newspaper report (in Latvian)
---
Talk : 23 November 2017
6.30pm at Stanfords, Long Acre, London.
---
London Launch: 21 November 2017
6.30pm at Daunt Books, Hampstead.
(left: Alex Kent signing books at Daunts)