This unique enterprise, creating a comprehensive map of the world, in 262 sheets at a standard scale and specification, was undertaken jointly by the Soviet Union and its allies during the 1960s and early 70s. Participants were Bulgaria, Czechoslovakia, German Democratic Republic, Hungary, Poland, Romania and the Soviet Union. Each was responsible for specific global regions.

The prospectus was announced at the International Geographical Congress in London in July 1964 and the maps were sold in the West by Pergammon Press.

Place names are in local language in Roman script so, for example, all Irish places are named solely with their Irish name. Seas are named in the languages of adjoining countries; for example, 'Irish Sea – Muir Meann'. (See sheet 35)

Sheets covering North America, Europe, Russia and the Polar regions (North and South) are available to view below.
---

Below: Original Prospectus, presented to the International Geographical Congress by the Editorial Board (click to enlarge)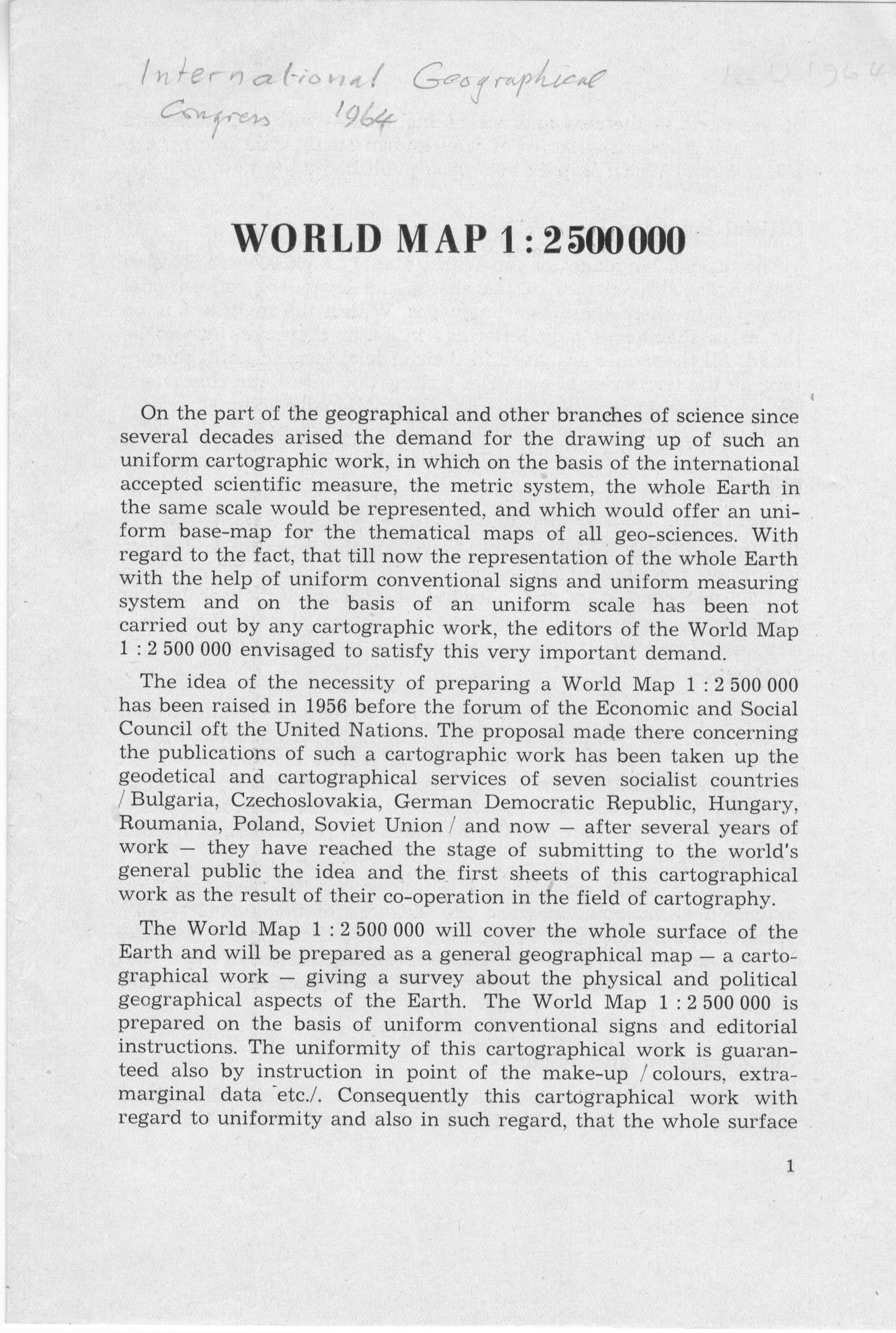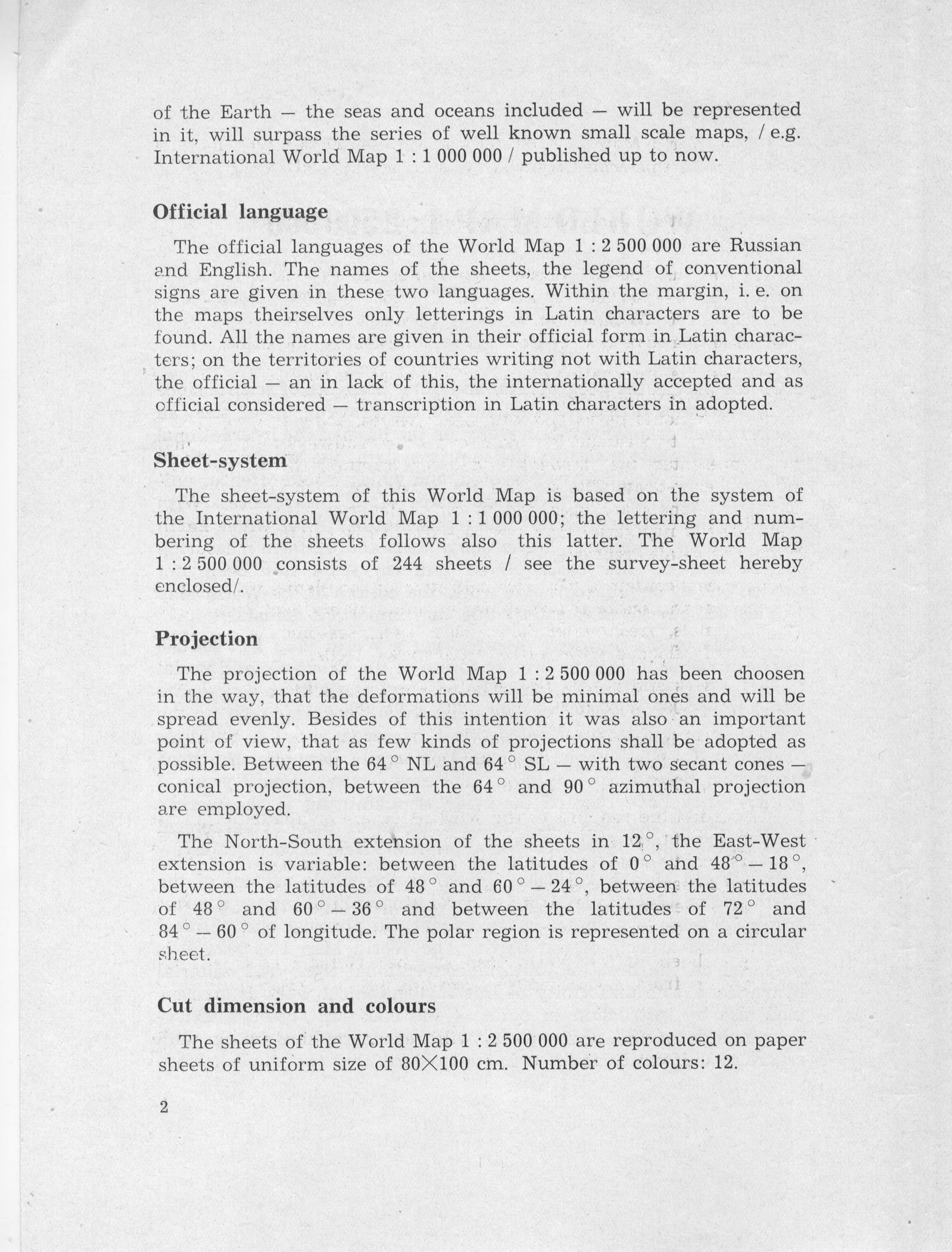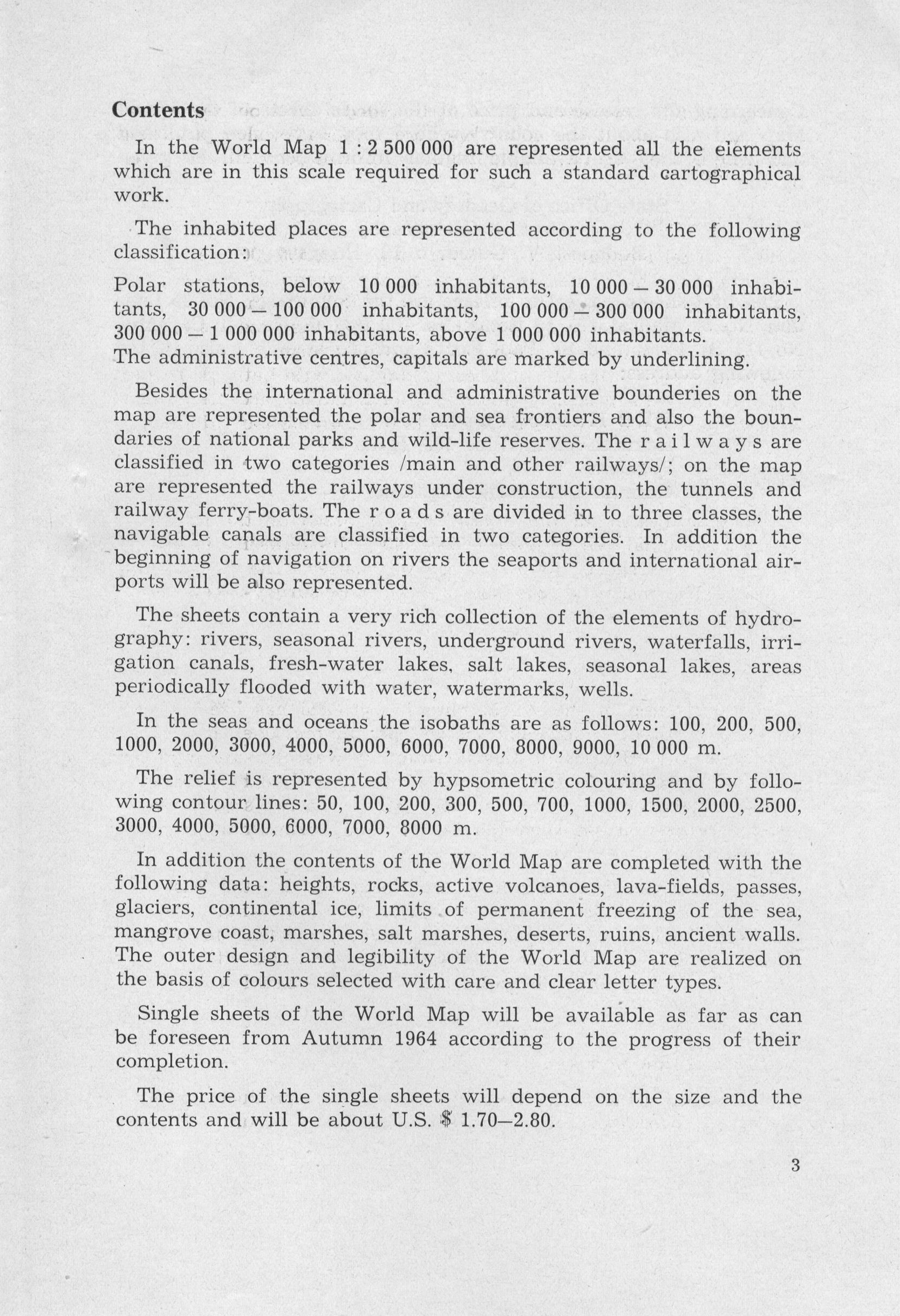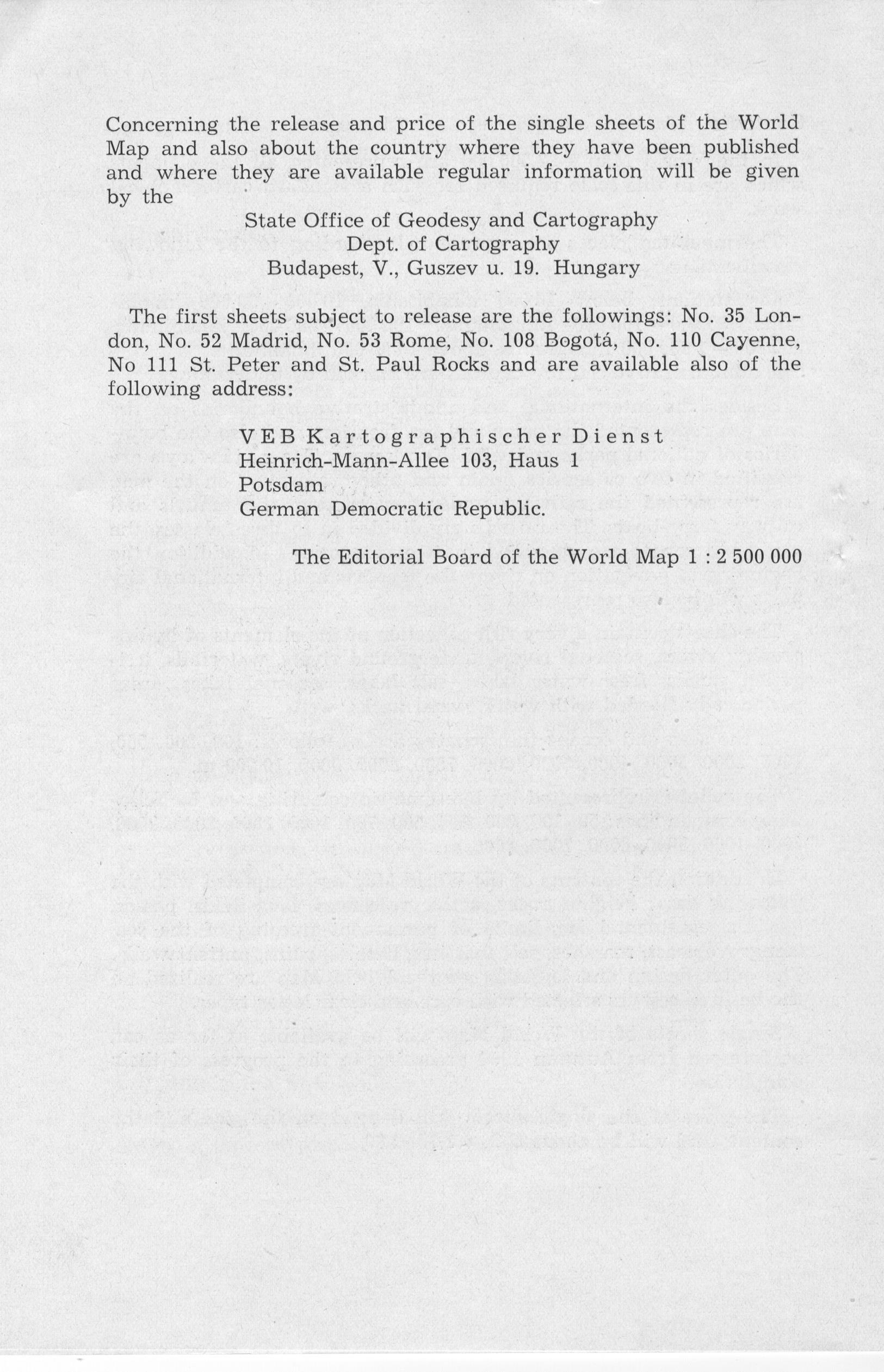 ---
Below: Sales brochure: General Information and Index, showing the resonsibility of the contributing countries (click to enlarge)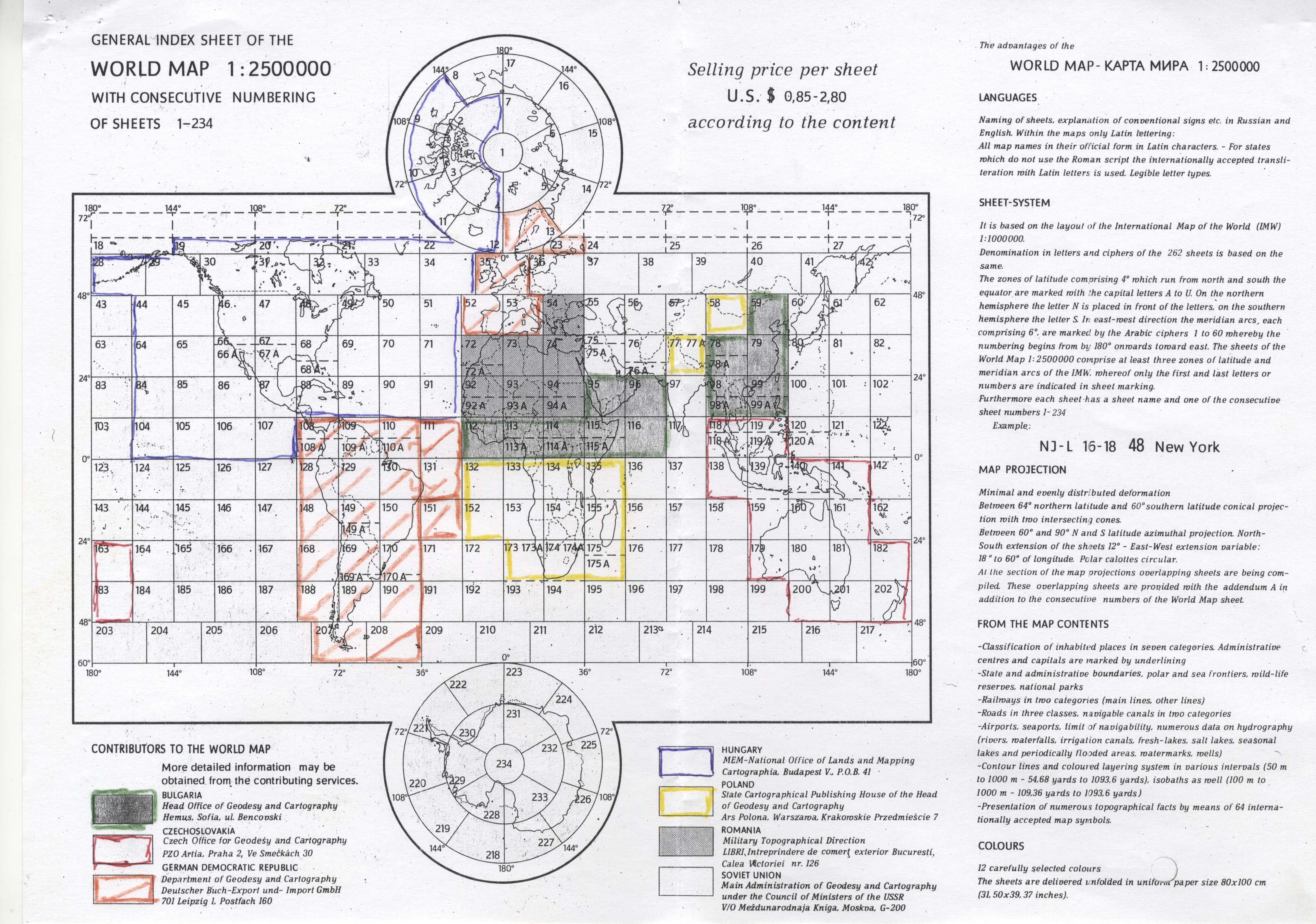 ---
Below: Sales brochure: List of sheets (click to enlarge)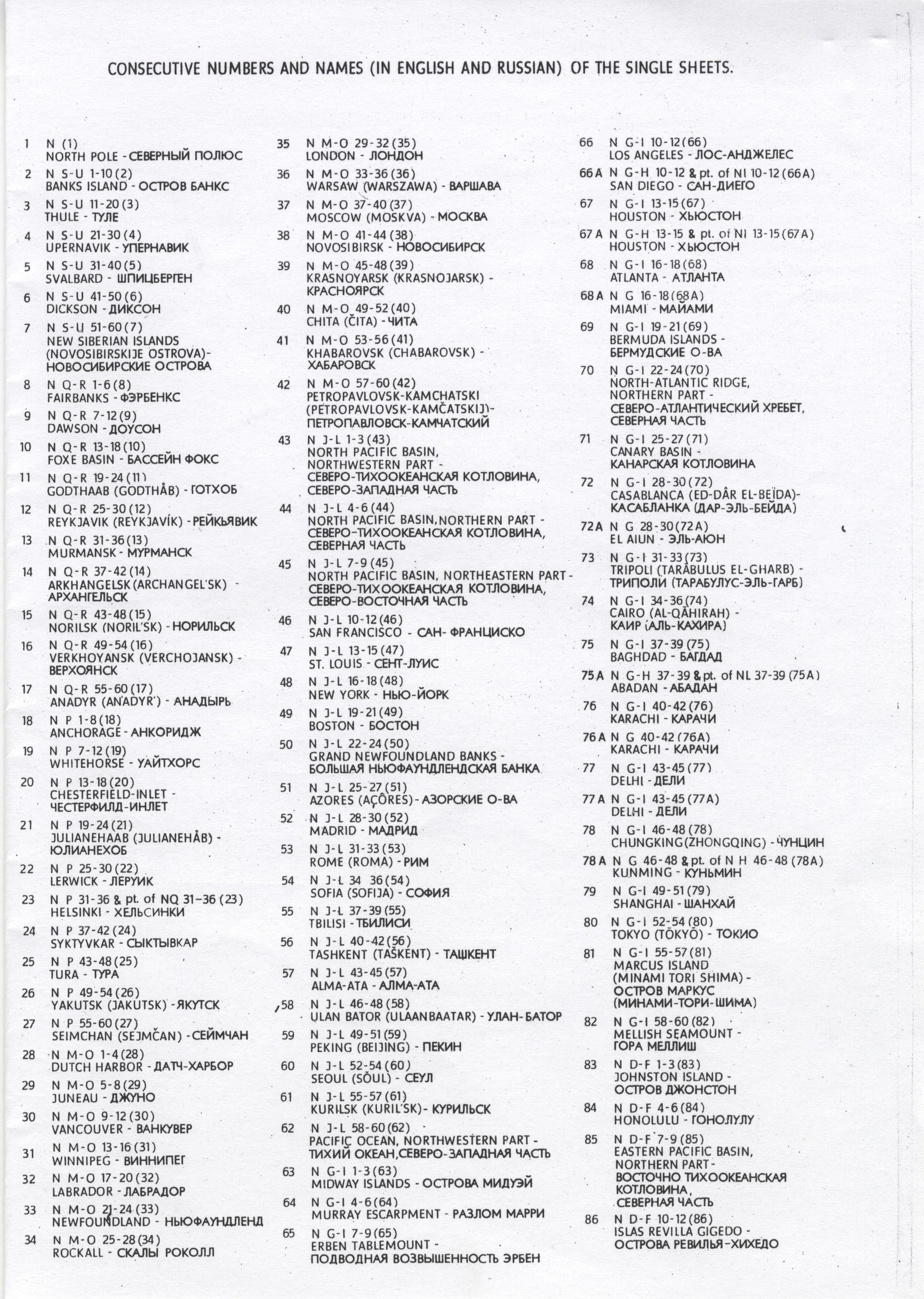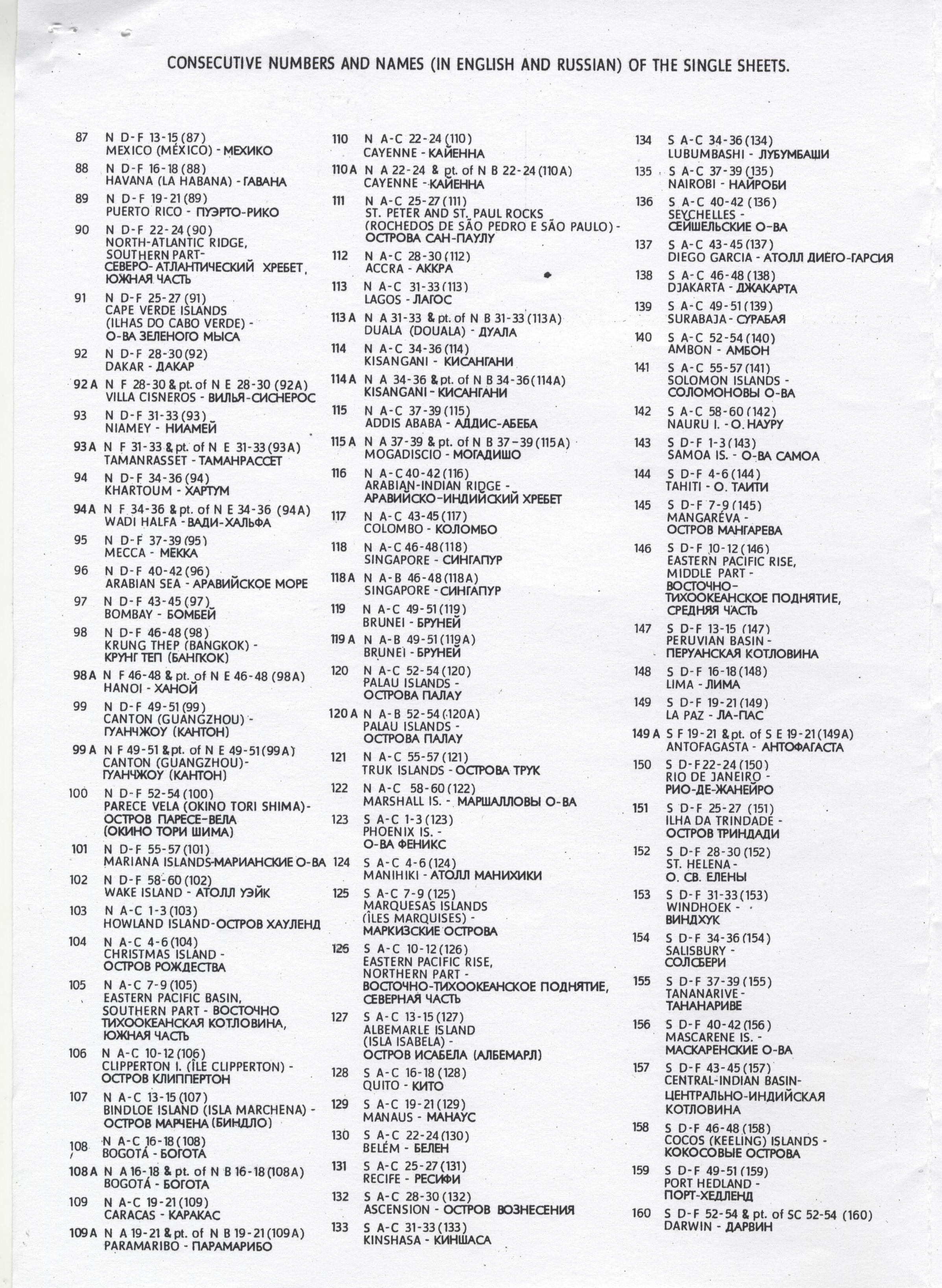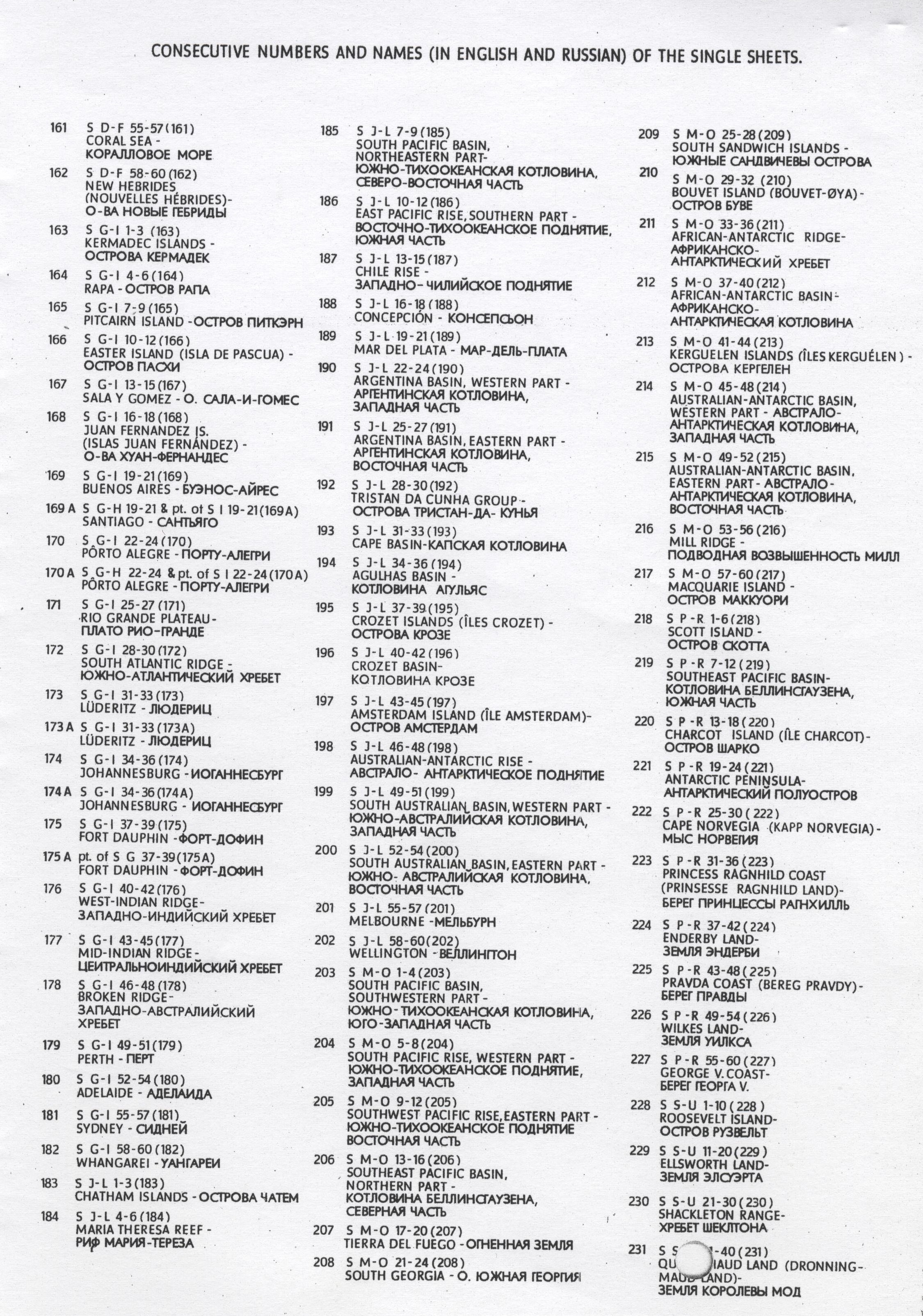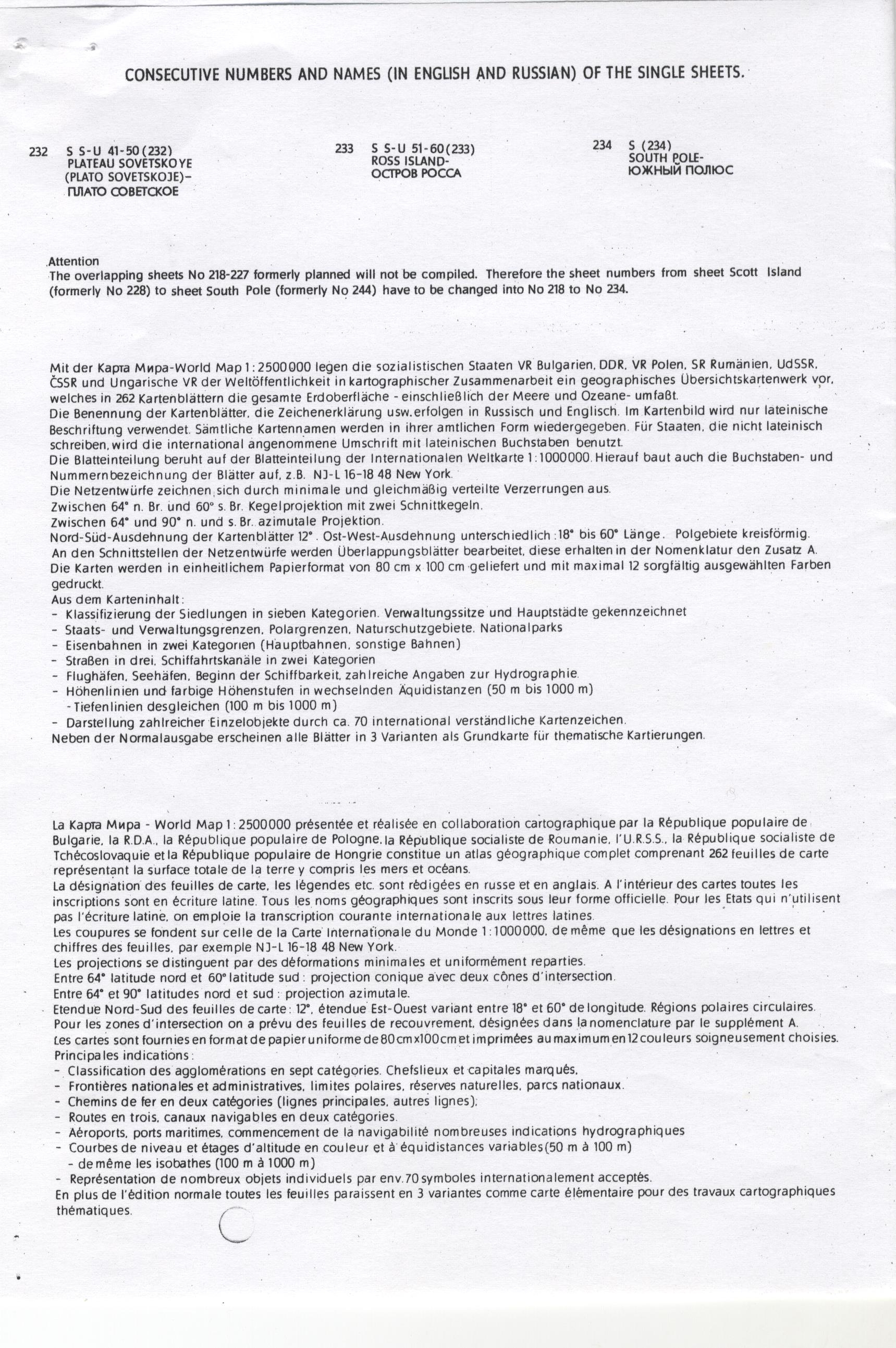 ---
Below: Pergammon Press Order Form (click to enlarge)

---
Below: Pergammon Press Index (click top and bottom half to enlarge)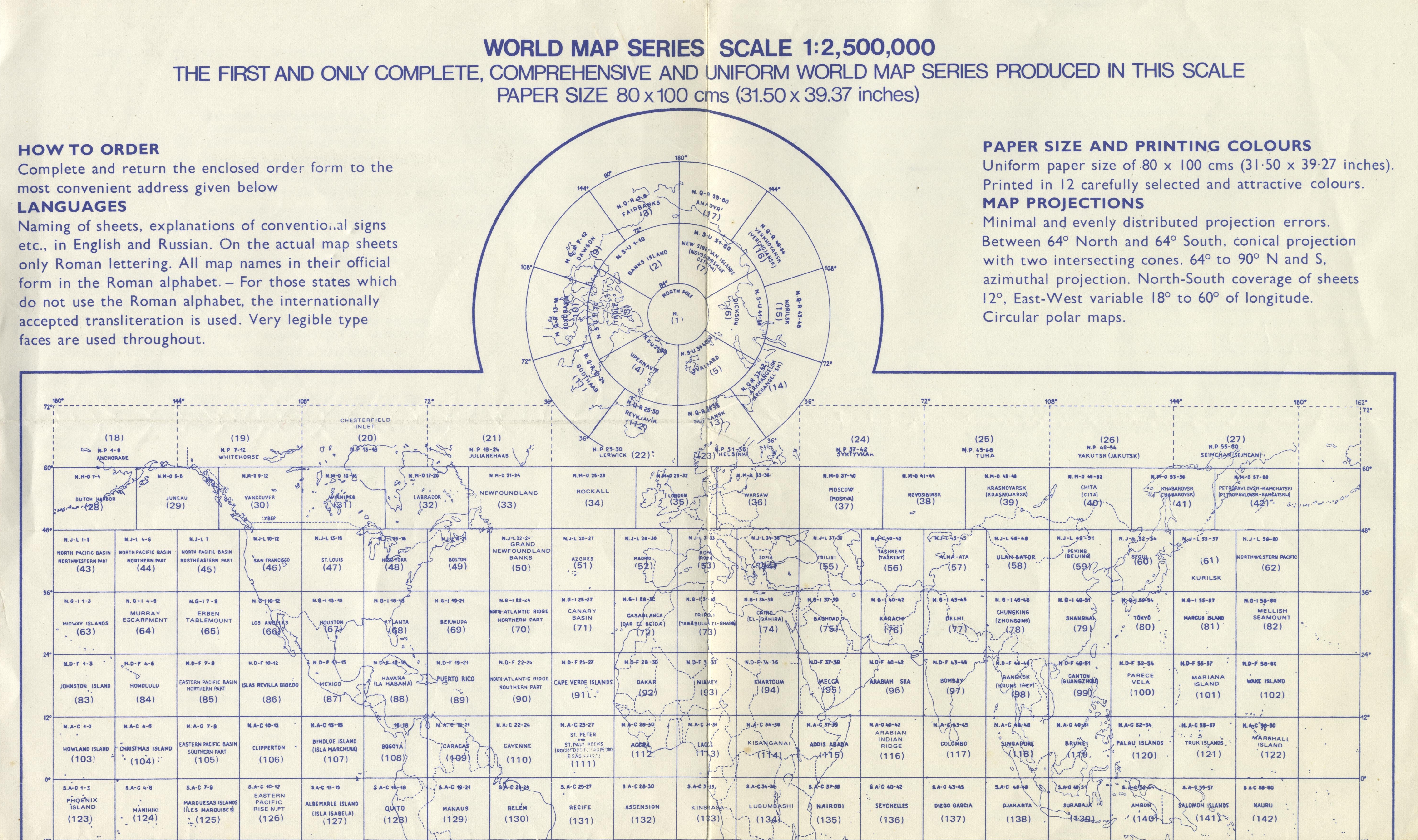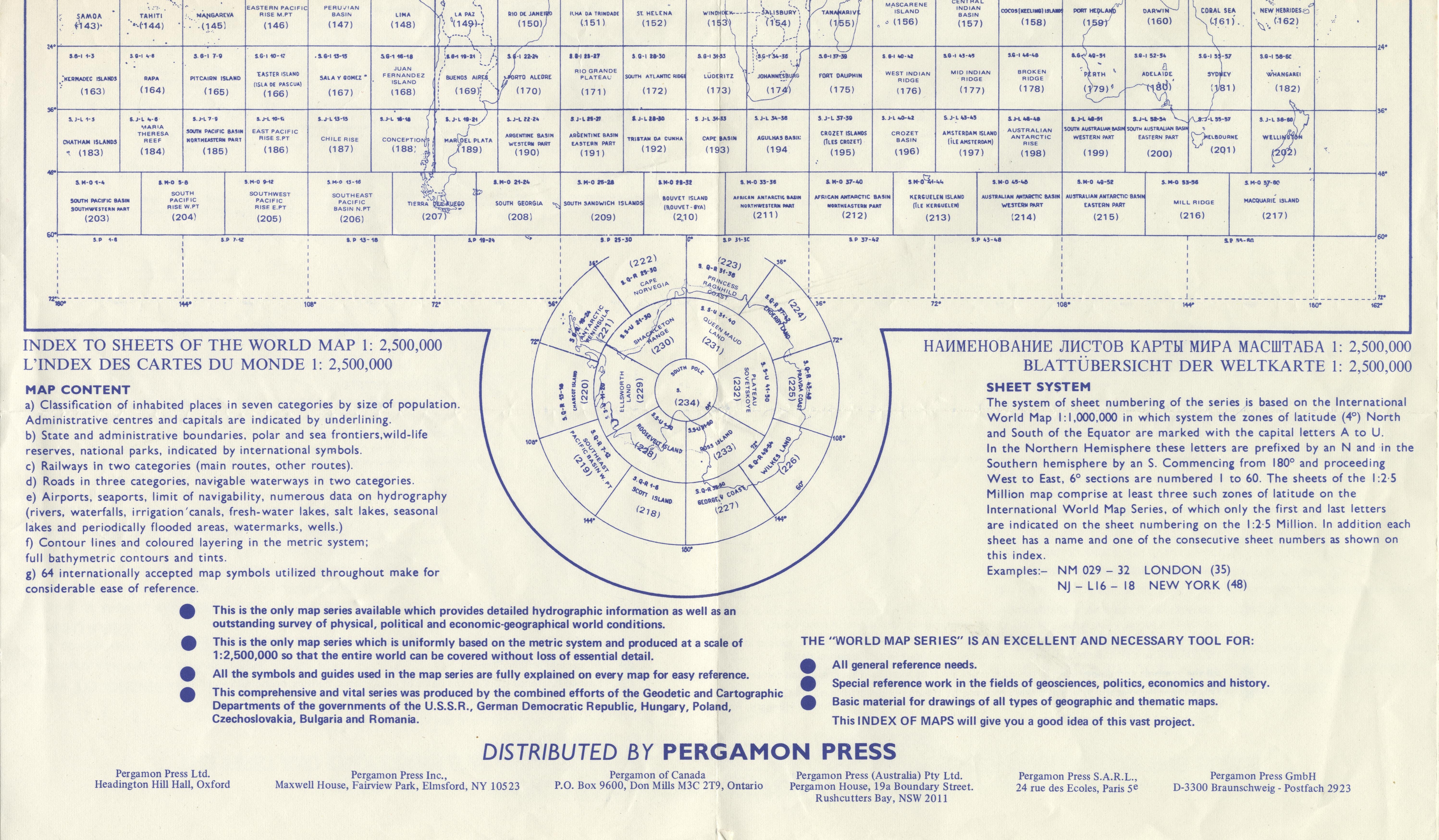 ---

The following sheets covering North America, Europe, Russia and the Polar regions (North and South) available to view .

1 North Pole
2 Banks Island
3 Thule
4 Upernavik
12 Reykjavik
13 Murmansk
15 Norilsk
16 Verkhoyansk
17 Anadyr
23 Helsinki
30 Vancouver
31 Winnipeg
32 Labrador
33 Newfoundland
34 Rockall
35 London
36 Warsaw
37 Moscow
38 Novosibirsk
39 Krasnoyarsk
40 Chita
41 Khabarovsk
42 Petropavlovsk - Kamchatski
46 San Francisco
47 St Louis
48 New York
49 Boston
51 Azores
52 Madrid
53 Rome
54 Sofia
55 Tbilisi
56 Tashkent
57 Alma-Ata
58 Ulan Bator
59 Beijing
60 Seoul
66 Los Angeles
66A San Diego
67 Houston
67A Houston
68 Atlanta
68A Miami
69 Bermuda Islands
87 Mexico
88 Havana
89 Puerto Rico
226 Wilkes Land
229 Ellsworth Land
230 Shackleton Range
232 Plateau Sovetskoye
233 Ross Island
234 South Pole
---
Back to Red Atlas Home Page
Back to Soviet Maps Home Page
---